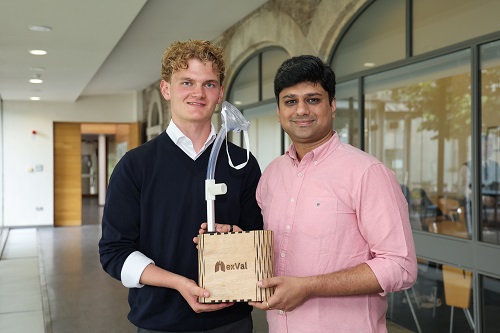 Early Stage MedTech Venture Named Winner of NovaUCD's 2023 Student Enterprise Competition
NovaUCD today announced exVal, an early stage MedTech venture, as the overall winner of the 2023 NovaUCD Student Enterprise Competition and a €5,000 cash prize.
exVal is focused on addressing the issue of early detection of childhood pneumonia as it continues to be a leading cause of death in children under the age of five, especially in the developing world.
exVal's solution is a portable, modular device for fast and early detection of pneumonia using an electrochemical sensor that detects relevant biomarker proteins in exhaled breath condensate. The non-invasive solution only requires an infant to breathe normally into the device via a mouthpiece and provides results based on breath condensate biomarker analysis.
The three members of the exVal team, all students in the UCD College of Engineering and Architecture are; Sarthak Jain, a postgraduate Biomedical Engineering student along with Simon Peter and Nathan Hens, both undergraduate engineering students.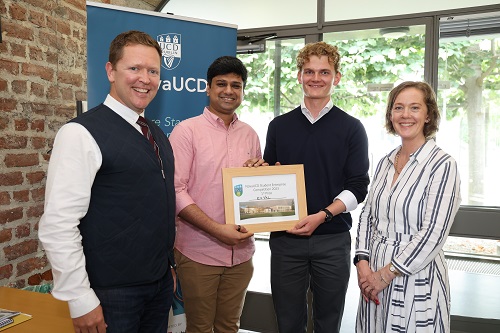 Simon Factor, Senior Manager, New Ventures, NovaUCD; exVal team members Sarthak Jain and Simon Peter, and Caroline Gill, Innovation Education Manager, NovaUCD
Simon Peter, exVal team member, said, "Pneumonia is responsible for a child's death every 43 seconds according to UNICEF. Although simple interventions and appropriate treatment can prevent childhood pneumonia deaths if the disease is diagnosed by x-rays and blood tests in its early stages.
However pneumonia often goes undiagnosed and untreated in the community, especially in developing countries where access to x-rays and blood tests can be an issue, until the child is critically ill. Our novel solution is a simple and accurate inline screening for children via a modified electrochemical sensor and offers fast results based on breath condensate biomarker analysis."
Sarthak Jain, exVal team member, said, "We are delighted to have been named the overall winner of the 2023 NovaUCD Student Enterprise Competition, especially as the quality of this year's entrants was very high, with many fantastic early stage student start-ups taking part."
He added, "The next steps for exVal are focused on iterating the prototype to achieve higher functionality. This will help us to engage with subject matter experts and research labs to further collect preclinical data as part of our IP strategy. We shall also explore the screening potential for other paediatric respiratory diseases, such as tuberculosis, based on insights garnered during the comprehensive customer discovery process undertaken during the NovaUCD Student Enterprise Competition."
The NovaUCD Student Enterprise Competition is an intensive 4-week mentoring programme for student entrepreneurs. The programme now in its 9th year, is run by NovaUCD, the start-up hub at University College Dublin (UCD), as a framework to support undergraduate and postgraduate students who want to work together to develop and grow start-up companies.
The aim of the competition is to assist the participating students in refining their start-up ideas through a series of structured workshops, including taught content from industry experts, interactive workshops, regular pitching sessions and mentoring.
Nine (9) early-stage student ventures and 18 participants took part in year's competition. Over 70 early-stage ventures and some 170 students have now completed the NovaUCD Student Enterprise Competition over the last 9 years.
Tom Flanagan, UCD Director of Enterprise and Commercialisation, said, "Congratulations to all the students who took part in this year's NovaUCD Student Enterprise Competition over the last 4-weeks to refine their start-up ideas. I would especially like to congratulate the exVal team, the overall winner of this year's competition. We look forward to seeing exVal and the other early-stage student ventures move forward and develop further and in due course successfully launch on the market."
exVal was declared overall winner of the competition following final pitches to an external judging panel. Two other participating ventures, AceCell and PromiseWatch, were announced as second and third place winners and receive €3,000 and €2,000 cash prizes respectively.
AceCell is developing a platform to allow exams to be delivered securely, through a Microsoft Excel add-in, replacing pen and paper, MCQ and alternative spreadsheet exams. The initial focus of AceCell will be examinations delivered by universities and corporate training firms.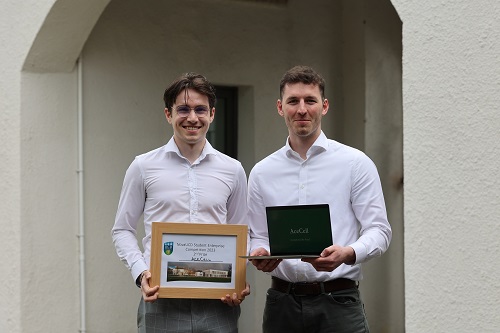 AceCell team members Tom Carpenter and Ryan McGlynn
Examiners will create exams tailored to their curriculum and use the add-in to deliver the exams to their students. This enables exams to be administered through Excel, thus enhancing the skillset of students in this essential software package. A feature for uploading marking schemes will allow for automatic correction of exams in real-time. A browser lockdown feature will eliminate students' access to external resources when logged into an exam to help ensure the integrity of exams is maintained.
The AceCell team members are, Ryan McGlynn, who has just completed an undergraduate Commerce degree at the UCD Lochlann Quinn School of Business and Tom Carpenter, who is a Biochemistry undergraduate student in the UCD College of Science.
PromiseWatch is focused on developing a platform to allow voters, especially young voters, easily find and access information on their local politicians, to track the promises they make to enable voters hold politicians accountable to these promises, thus promoting civic engagement.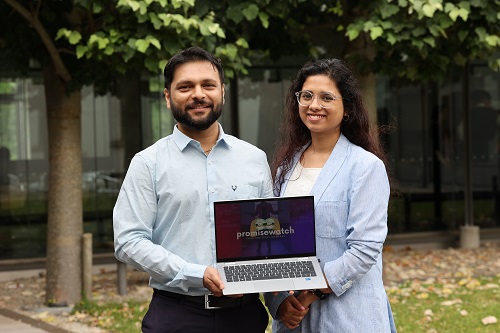 PromiseWatch team members Amit Wasnik and Sonam Bajpai
With young voters replying on social media, where fake news is rampant, for their news, PromiseWatch aims to provide a trustworthy platform to hold politicians accountable to their promises and to combat misinformation and to empower informed decision making by voters.
The PromiseWatch team members are, Amit Wasnik and Sonam Bajpai, both MSc Information Systems graduates from the UCD School of Information and Communication Studies.
The members of the judging panel were; Emilie Audran, Community and Ecosystem Programme Manager, Dogpatch Lab; Chris Burge, Co-founder and CEO, Spark Crowdfunding; Niall Diffley, Development Advisor, ICT HPSU, Enterprise Ireland; Orla Reynolds, New Frontiers Programme Manager, IADT and Simon Factor, Senior Manager, New Ventures, NovaUCD (Chair).
The 4-week mentoring programme, which used the Lean Startup and Business Model Canvas approach, included a series of structured and interactive workshops and interactive workshops led by Raomal Perera and Caitlin Hafer of Lean Disruptor.
The sponsors of the 2023 NovaUCD Student Enterprise Competition are; AIB, AMD, Arthur Cox, Deloitte, Ericsson and Goodbody.
ENDS
27 June 2023
For further information contact Micéal Whelan, Communications and Media Relations Manager, NovaUCD, e: miceal.whelan@ucd.ie.
Editors Notes
At NovaUCD, the hub for new ventures and entrepreneurs at University College Dublin, we nurture and support new high-tech and knowledge-intensive companies. At NovaUCD we provide purpose-built, state-of-the-art incubation facilities alongside a comprehensive business support programme for client companies. At NovaUCD, we also offer a range of tailored modules, courses, seminars and programmes to researchers and students in the areas of entrepreneurship, innovation, creativity and technology commercialisation, including the NovaUCD Student Enterprise Competition. NovaUCD has been funded through a unique public-private partnership that includes AIB, AMD, Arthur Cox, Deloitte, Enterprise Ireland, Ericsson, Goodbody Stockbrokers and UCD. www.novaucd.ie